The Ghost of Reed Burkhardt
09-28-2015, 08:27 PM
(This post was last modified: 09-28-2015 08:46 PM by Lin S..)
Lin S.
Resistance


Posts: 230
Joined: Sep 2015
Reputation: 6
The Ghost of Reed Burkhardt
1)
Hamlet
opens with a ghost in armour walking the battlements of Elsinore Castle. Two watchmen see him but the ghost will not answer them and disappears.
In Woman in Black, a woman in hoodie, gloves and boots (battle attire) is seen on the outside hallway/catwalk of a motel. Officer Franco and Sgt. Wu try to detain her and question her. She refuses to answer and jumps from the stairs.
Hamlet sees the ghost and the ghost first speaks to him. It tells Hamlet his father, the old king did not die accidentally but was murdered. And the ghost will not rest until his murder is avenged.
Nick battles Akira Kimura in his house, the man hired to kill his parents when a mysterous woman in black comes in, kills Kimura and speaks for the first time to Nick. She says "Nick, Nickie." and Nick recognizes her as his mom, a ghost from out of his past.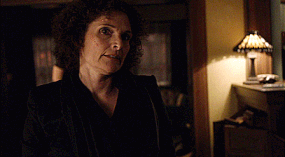 Kelly Burkhardt tells Nick his father was murdered and she has been hunting (or haunting the steps of) his killers for 18 years.
Cast of Hamlet in Act 1:
Hamlet = Nick Burkhardt
Ghost = Kelly Burkhardt
watchmen = Office Franco and Sgt. Wu
Where it really gets interesting is when Hamlet finds out what happened to his father. Will Nick find out what really happened to Reed Burkhardt?
2)
Queen Gertrude
After her first husband has been dead only two months, Queen Gertrude marries another man. Hamlet is appalled that his mother would forget his father so quickly.
Gertrude is the most important woman in his life and he cherishs the life he had as a family with his father and mother. He doesn't want to let go of that.
Juliette is the most important woman in Nick's life. He is anguished when she awakens from a coma and can't remember him. Nick still loves Juliette and he doesn't want their romance to end.
But Juliette, like Gertrude, has started having feelings for someone else and Nick goes through all the stages of patience, frustration and anger that Hamlet goes through with Gertrude.
After Nick accuses Juliette of having feelings for another man he moves out of their castle and into his best friend Monroe's house. After Hamlet accuses Gertrude of being a bad wife, Hamlet is sent away to England. He is captured by pirates and his best friend Horatio pays his ransom and brings him back to Denmark. So Hamlet is now staying with Horatio.
Hamlet cast:
Prince Hamlet = Nick Burkhardt
Queen Gertrude = Juliette Silverton
King Claudius = Sean Renard
Horatio = Monroe
3.
The ghost of Reed Burkhardt
.
Every fairy tale in Grimm starts in the first episode of the series, Pilot. But Shakespeare's play opens with the ghost scene and that is not until episode 22 the Woman in Black. So what happens in Pilot that comes from Hamlet?
Before the curtain rises there is a backstory. Hamlet is studying in Wittenberg, Germany when he gets word his father has died and comes back to Denmark for the funeral. In Pilot, Nick is in school too. He is studying the books in the trailer to learn how to become a Grimm. The trailer, and it's library, represents Hamlet's stay at Wittenberg University.
Hamlet's father, we are told in the play, fell down dead in his garden from a serpent's bite. Who falls down dead like that in the Pilot? You are going to hate me for saying this but when Hank and Nick shot the postman he falls down dead in his front yard. This I believe represents the death of Hamlet's father.
Anyone want to pillory me for saying that?
User(s) browsing this thread: 1 Guest(s)